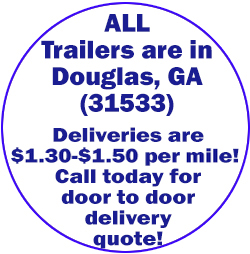 Delivery Area for Trailers Now Trailer Sales:
How do I get a delivery price estimate? Call us or check this out!
Looking for a quality enclosed cargo trailer for sale to be delivered to city?
Trailers Now Trailer Sales can help you find a product that will meet your hauling needs.
Our experienced, educated staff can assist you with the purchase of a factory-direct trailer, and if you 'd like we'll have it delivered to your exact location.
Most enclosed trailers for sale in city will not come with a 5 year manufacturer's warranty, and there's no guarantee that they're constructed with a sturdy steel-tube main frame supported by a dependable plywood interior– standard features at Trailers Now Trailer Sales.
Don't take any risks with small time trailer sales, buy factory direct and save up to thousands of dollars with a quick and easy transaction.
Trailers Now Trailer Sales has trailers ready for pick up in Douglas, Georgia, but we regularly deliver enclosed trailers all over the country, so no matter where you need your trailer, we've got you covered.
Some of the states we deliver to include:

Alabama Enclosed Trailers For Sale via Delivery from Douglas, GA
Arkansas Enclosed Trailers via Transport from Douglas, GA
Connecticut Cargo Trailers via Delivery from Douglas, GA
DC Enclosed Cargo Trailers via Delivery from Douglas, GA
Delaware Enclosed Trailers via Delivery from Douglas, GA
Florida Enclosed Cargo Trailers For Sale via Delivery from Douglas, GA
Georgia Cargo Trailers via Delivery from Douglas, GA
Illinois Enclosed Cargo Trailers For Sale via Transport from Douglas, GA
Indiana Cargo Trailers For Sale via Delivery from Douglas, GA
Iowa Enclosed Trailers For Sale via Delivery from Douglas, GA
Kansas Enclosed Cargo Trailers For Sale via Transport from Douglas, GA
Kentucky Enclosed Trailers via Transport from Douglas, GA
Louisiana Enclosed Trailers For Sale via Delivery from Douglas, GA
Maine Cargo Trailers For Sale via Delivery from Douglas, GA
Maryland Enclosed Trailers For Sale via Transport from Douglas, GA
Massachusetts Enclosed Trailers via Delivery from Douglas, GA
Michigan Enclosed Trailers For Sale via Transport from Douglas, GA
Minnesota Enclosed Trailers via Transport from Douglas, GA
Mississippi Enclosed Cargo Trailers For Sale via Delivery from Douglas, GA
Missouri Enclosed Cargo Trailers For Sale via Delivery from Douglas, GA
Nebraska Enclosed Trailers For Sale via Transport from Douglas, GA
New Hampshire Cargo Trailers For Sale via Transport from Douglas, GA
New Jersey Enclosed Trailers via Transport from Douglas, GA
New York Cargo Trailers via Delivery from Douglas, GA
North Carolina Enclosed Cargo Trailers via Delivery from Douglas, GA
North Dakota Enclosed Cargo Trailers via Transport from Douglas, GA
Ohio Enclosed Cargo Trailers For Sale via Transport from Douglas, GA
Oklahoma Enclosed Cargo Trailers via Delivery from Douglas, GA
Pennsylvania Enclosed Cargo Trailers via Delivery from Douglas, GA
Rhode Island Enclosed Cargo Trailers For Sale via Transport from Douglas, GA
South Carolina Enclosed Cargo Trailers For Sale via Delivery from Douglas, GA
South Dakota Enclosed Cargo Trailers For Sale via Delivery from Douglas, GA
Tennessee Enclosed Trailers For Sale via Transport from Douglas, GA
Texas Cargo Trailers via Delivery from Douglas, GA
Vermont Enclosed Cargo Trailers via Delivery from Douglas, GA
Virginia Enclosed Trailers For Sale via Delivery from Douglas, GA
West Virginia Enclosed Trailers For Sale via Delivery from Douglas, GA
Wisconsin Enclosed Trailers via Delivery from Douglas, GA